A shortage of data scientists means the employment outlook for professionals with the required knowledge and technical skills is extremely positive.
According to CEB TalentNeuron, around 2,000 data scientist jobs were posted in March 2014; by February 2016, there were nearly 10,000. In the article "Data Scientist: The Sexiest Job of the 21st Century," Harvard Business Review noted that "the shortage of data scientists is becoming a serious constraint in some sectors."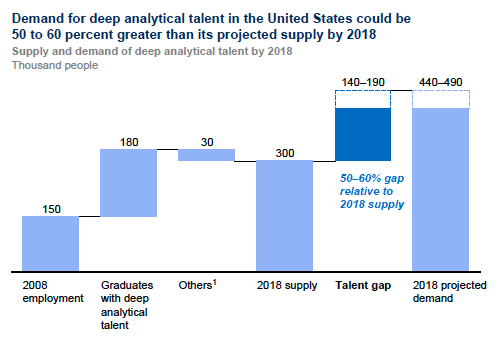 The McKinsey Global Institute agrees. "Demand for deep analytical talent in the United States could be 50 to 60 percent greater than its projected supply by 2018." The result may be a shortage of "140,000 to 190,000 people with deep analytical skills as well as 1.5 million managers and analysts to analyze big data and make decisions based on their findings."
Data science careers are growing in virtually every sector: manufacturing, construction, transportation, warehousing, communication, science, health care, computer science, information technology, retail, sales, marketing, finance, insurance, education, government, security, law enforcement, and more.
Data Science Job Titles and Salaries
Job titles in this field vary widely. According to job and career reviews site Glassdoor, the annual median salary for a data scientist is $118,709 (last updated June 20, 2015). The Occupational Information Network lists the related title of business intelligence analyst (2013 median pay: $82,340 per year) as a "Bright Outlook" occupation—a new and emerging occupation in a high-growth industry.
In his article, Big Data Salaries: An Inside Look, DataJobs.com founder Frank Lo conducted extensive research to identify the following job titles and salary ranges:
Data analyst—entry level | Annual salary: $50,000–$75,000
Data analyst—experienced | Annual salary: $65,000–$110,000
Data science/analytics manager—1 to 3 direct reports | Annual salary: $90,000–$140,000
Database administrator—entry level | Annual salary: $50,000–$70,000
Database administrator—experienced | Annual salary: $70,000–$120,000
Big data engineer—junior/generalist | Annual salary: $70,000–$115,000
Big data engineer—domain expert | Annual salary: $100,000–$165,000
Additional job titles related to data scientist include:
Data mining engineer
Machine learning engineer
Data architect
Hadoop engineer
Data warehouse architect
Commercial intelligence manager
Competitive intelligence analyst
Consultant, strategic business and technology intelligence
Manager of market intelligence
Director of enterprise strategy
Director of global intelligence
See our Data Science Jobs page to get an idea of the types of data science jobs available today.
In this video, DJ Patil, former chief data scientist at LinkedIn, talks about the impact of data science on business and society. DJ's talk starts at 1:43.
Take the Next Step in Your Career
Big data presents big opportunities—for you and for your potential employers. With a University of Wisconsin Master of Science in Data Science, you can open new doors to professional advancement and personal satisfaction. As a student in this program, you will be able to use the skills you learn immediately to solve real-world challenges in your own organization, and upon graduation, you will enjoy expanded career opportunities in this emerging field.
Questions?
Enrollment advisers are available Monday through Thursday 8 a.m. to 7:30 p.m., Fridays 8 a.m. to 4:30 p.m. CT, or by appointment.
Call: 1-877-895-3276
Email: learn@uwex.edu