Organizations in nearly every industry are racing to hire qualified professionals with the skills to transform big data into big insights and better decisions—and these data scientists are in short supply.
Are you ready to answer the call?
Your bright new future starts now.
Big data, big opportunities for you and your career
The University of Wisconsin Master of Science in Data Science and Graduate Certificate in Data Science are 100% online programs designed for busy adults eager to learn how to clean, organize, analyze, and interpret unstructured data to drive business insights. Discover the latest tools and analytical methods to effectively work with and communicate about data. Expert University of Wisconsin instructors, flexible online learning, and no GMAT or GRE admission requirements are just a few of the advantages of online UW Data Science programs.
Why choose the University of Wisconsin Data Science programs?
The Master of Science in Data Science and Graduate Certificate in Data Science is a partnership between UW Extended Campus and several University of Wisconsin campuses. This collaboration gives students access to the combined resources and talent of the UW System. Online learning with UW Extended Campus is a smart choice for busy adult learners who want to advance their careers while balancing work, family and other commitments. As a student you will:
Learn to harness the power of big data using the latest tools and analytical methods
Enjoy the flexibility of online courses
Gain a competitive advantage in a high-growth field
Learn from top faculty from across the UW System
Graduate from an institution employers respect
Admission to the master's and graduate certificate program requires a bachelor's degree and a 3.0 GPA. Aptitude tests such as the GMAT and GRE are not required.
Earn your master's or graduate certificate online
Grow your skills with an engaging, multidisciplinary curriculum
Master's Degree
Discover how to transform big data into actionable insights and advance your career in the growing field of data science.
Certificate
Learn how to effectively work with and communicate about data, positioning yourself for success in today's data-driven world.
Discover exciting, high-paying career opportunities
With the potential to impact nearly every sector of the global economy, data science is emerging as one of the fastest-growing professions of the 21st century. A UW Master of Science in Data Science or Graduate Certificate in Data Science can be the foundation for a variety of lucrative occupations, including:
Business intelligence analyst
Data modeler
Data or research analyst
Hadoop engineer
Data mining engineer
Data scientist
Data warehouse architect
Director of market intelligence
Learn from exceptional faculty
Whether you're a UW Data Science Master's student or enrolled in the Graduate Certificate program, you'll learn from distinguished faculty from six University of Wisconsin partner campuses. View our faculty biographies.
Online format fits your busy life
We understand it's not easy to juggle the responsibilities of work and family while earning your degree or certificate. That's why UW Data Science programs are online to give you freedom and flexibility.
Access course content from your desktop, laptop, tablet, or smartphone
No on-campus meetings or requirements
No need to be online at a specific time for classes
Interact with faculty and fellow students via online discussion boards
Pay the same tuition, in or out of state
Whether you live in Wisconsin or not, tuition is a flat fee tuition is $850 per credit. (36 credits total). *Note: tuition is increasing to $875 per credit as of the Fall 2022 semester.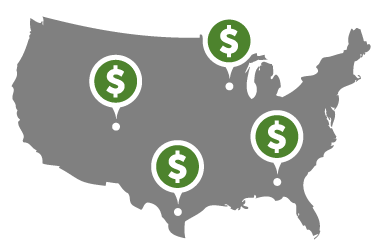 Financial aid is available for students who qualify.
Achieve your goals with a University of Wisconsin education
Where you get your degree is important. The University of Wisconsin System is one of the largest and most widely respected organizations in the country for delivering public higher education. Our online courses are created by the same expert faculty using the same rigorous content and standards as on-campus courses. That means you'll graduate with the same recognized and respected UW degree as students who attend class on campus.
Get Your Data Science Program Guide

Download an overview of the UW Data Science programs complete with information about courses, careers, and tuition
Get Your Data Science Program Guide
Download an overview of the UW Data Science programs complete with information about courses, careers, and tuition