The online UW Master of Science in Data Science and Graduate Certificate in Data Science is a partnership of UW Extended Campus and several University of Wisconsin campuses: UW-Eau Claire, UW-Green Bay, UW-La Crosse, UW-Oshkosh, UW-Stevens Point, and UW-Superior. Our multi-campus partnership means you'll learn from distinguished faculty across the UW System with diverse, interdisciplinary expertise and strong connections to the industry.
Although you will take courses taught by faculty from all five partner campuses, you will apply to a "home" campus. Your home campus is the institution from which you will receive financial aid (if you qualify), advising, career services, and your diploma or certificate. Your choice of a home campus is a matter of personal preference unless you live near one of these institutions and wish to take advantage of on-campus resources once you become an enrolled student.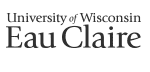 The University of Wisconsin-Eau Claire is a campus partner for the online UW Data Science programs. Below is information pertaining to UW-Eau Claire resources that you may find useful. For any additional information and to learn more about this campus partner, explore the UW-Eau Claire website.
Graduate Student Admissions
For more information about the admission requirements and student services, visit the University of Wisconsin-Eau Claire Graduate Admissions Office.
International Guidelines
This program welcomes online students from around the world. Online students do not qualify for an F-1 Student Visa to travel to the U.S. but instead can participate in our online courses remotely. If your native language is not English and/or you attended school outside of the U.S., you will likely need to provide proof of English language proficiency and an official translation or evaluation of academic transcripts. Requirements will vary based on a student's academic history and home campus policies. For guidance about these requirements and how they apply to your specific situation contact the UW-Eau Claire admissions office.
If you would like to apply as an International Student for an on-campus program in the UW System please refer to these resources through UW-HELP. 
Financial Aid
For information about financial aid and scholarships available through UW-Eau Claire, visit the Office of Financial Aid or call (715) 836-3373.
Library
Visit the McIntyre Library for information about library services that are available to all UW-Eau Claire students.
Career Services
Explore your data science career options with UW-Eau Claire's Career Services Center.
Veterans
Veterans may be eligible to receive benefits from the Wisconsin Department of Veterans Affairs or Veterans Administration (VA). For more information and to see how your military benefits can be applied visit the Veterans Resource Center online or call (920) 424-1804.