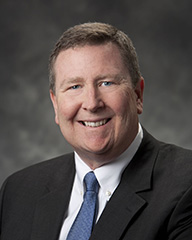 Richard "Rick" Moran teaches Marketing and Management at the University of Wisconsin-Superior. Prior to moving to academia, he spent over 30 years in the airline, advertising agency, travel management and corporate payment industries.
While Director of Commercial Marketing at Northwest Airlines, he managed the firm's relationships with frequent business travelers, including the frequent traveler program and related marketing efforts. Later, as vice president of an advertising and marketing agency specializing in service industries, he worked with a variety of clients, often developing targeted marketing efforts centered on the use of data to target and manage consumer communications to build and strengthen customer relationships.
After managing marketing for two large travel management firms focused on the government market, he cofounded and served as CEO of a firm providing marketing and support services to small travel agents, growing the business to over $45 million in sales. Later he moved to teaching business at UW-Superior, with research interests focused on strategic planning as well as the use of targeted, data-driven methods of building customer loyalty, with the goal of building customer equity, brand equity and increased value for firms adopting data-driven loyalty strategies.
He has a DBA from Metropolitan State University in Minneapolis, MN, an MBA in Marketing from the University of Oregon in Eugene, OR and a BS in Economics from the University of Illinois at Champaign-Urbana, IL.