"We live in a time of almost unimaginable volume of data creation; the rates really are quite mind boggling. Fortunately, we also live in a period of exciting advances in both the computing power – and the automation of statistical machine learning techniques."
_____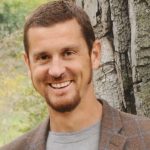 Meet Darvish Shadravan. His Twitter profile says he's a dad, mountain bike racer, guitarist and UW Data Science master's degree student at UW-La Crosse. He's also a solution engineer for Salesforce Einstein Analytics, where he helps customers solve business challenges using machine learning and artificial intelligence. Darvish relishes the future of machine learning, a term that is not yet widely understood by the non-tech community. He recently published a LinkedIn post about how machine learning underlies tools such as Einstein Discovery.
The good news is that with all the sophisticated tools data scientists have at their fingertips, there's still one that hasn't been replaced (yet). In his article, "Einstein Discovery…Machine Learning or Just What We Do for Fun?," Darvish says humans will still be making the decisions — but with minimal intervention.
Read his entire post here. For more information about the University of Wisconsin Data Science master's degree, please visit our website.