Whether you're new to data science and taking in all the…well, data…you can find or you're a seasoned professional who loves diving into the endless niches in the field, data science blogs can be a valuable resource. But the internet is teeming with content wormholes that run the gamut from questionable to laughable—how do you choose the blogs worth your time?
This list, compiled of recommendations from experts that work on the University of Wisconsin Data Science master's program, the ever-intrepid Quora.com contributors, and our own favorite data science resources, will give you a stepping-off point for some great informational, entertaining content.
This straightforward blog spares aesthetic for function; parse through the archives, organized both chronologically and by topic, and you'll find a treasure trove of up-to-the-minute information on everything from classification software to cohort analysis.
Andrew Gelman is a statistics and political science professor at Columbia University. His blog is a mix of academia musings, current event observations, political-based data analysis, and a healthy dose of humor. Check back regularly; Andrew has a lot on his mind and updates frequently!
For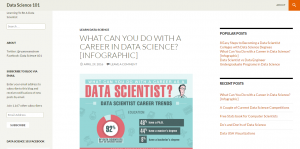 those still researching—or just entering—the field, Data Science 101 offers some great insight on
the industry as a whole. Blog posts are heavy in infographics and FAQ lists and report on major developments within the professional data science world.
If you want political review that's truly unbiased or just-the-facts sports reporting, check out this current events-based site that leans heavily on data and statistical analysis. Archives are organized by subject; read up on politics, sports, science and health, economics, or culture. If you want to dig deeper, check out their podcasts or sign up for the newsletter.
Baseball is America's national pastime. Baseball analytics has a fanbase all its own. This blog, a subsidiary of the SB Nation blog group, has the feel of a standard sports-reporting blog but with the research and data analytics to keep you riding high in your fantasy league.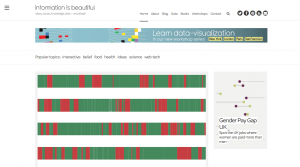 We've featured David McCandless on our blog before, and for good reason. He's a data journalist who specializes in data visualizations, and his blog is the perfect counterpart to some of the more minimally designed websites on our list so far. It reads more like a stunning visual arts blog that just happens to have hardcore statistical analytics at its core. Next time you want to prove that science can be beautiful, pop up this blog.
Folks who work in marketing often feel misunderstood and underappreciated—they take the hard data-driven work and turn it into easily consumed fluff. Prove to your marketing friends that you recognize their hard work by reading this blog, written by a market research methodologist with a penchant for sampling, surveys, and statistics.
The inventor of the Amazon recommendation engine, Greg Linden is a true data analytics Cinderella story. Follow his blog for unique insights on hot current events and the twists and turns coming for the future of data tech.
If you have any interest at all in the R language (commonly used to develop statistical software), this is the only blog you need to keep up-to-date on the R community. It's a content aggregator that pulls posts from participating, applicable bloggers. And it even drives traffic back to the original source. SEO symbiosis!
Nick Berry began his data science career in electronic mapping and route planning, and since then has mastered customer analytics, tech patenting, programming and engineering, and data privacy. His well-rounded experience has earned him a nomination for GeekWire's Geek of the Week and provides the foundation for a blog that explores everything from circuit board defects, to developing the perfect snowflake (using recursion, naturally), to collecting baseball cards as efficiently as possible. Long story short, if you have a short attention span and plenty of curiosity, this one's worth checking out.
Interested in a data science career? Visit the UW Master of Science in Data Science ho
mepage, download the program guide to the right, or speak with an enrollment adviser at 608-262-2011 or learn@uwex.wisconsin.edu to find out whether this online master's program is right for you.