"If you're navigating a dense information jungle, coming across a beautiful graphic or a lovely data visualization—it's a relief. It's like coming across a clearing."
Renowned data journalist David McCandless said this. His work will pop up several times in this post, and for good reason. His data visualizations are among the best, like candy for the eyes and the brain. (WARNING: You could kill several hours looking through his website, Information Is Beautiful.)
A great data graphic can change the way we see the world. To demonstrate how creative and investigative—as well as illuminating—data science can be, we selected nine of the most fascinating data visualizations on the web.
Get ready to gain new perspectives on everything from national spending, music, and creative routines to sports, dog breeds, and movies.
Ten billion. Fifty billion. Sums this large can be difficult to conceptualize. That's why McCandless analyzed spending and earning figures reported by the media and transformed them into simple squares set beside each other. With this data visualization, you get a sense of size of billions spent, owned, or earned.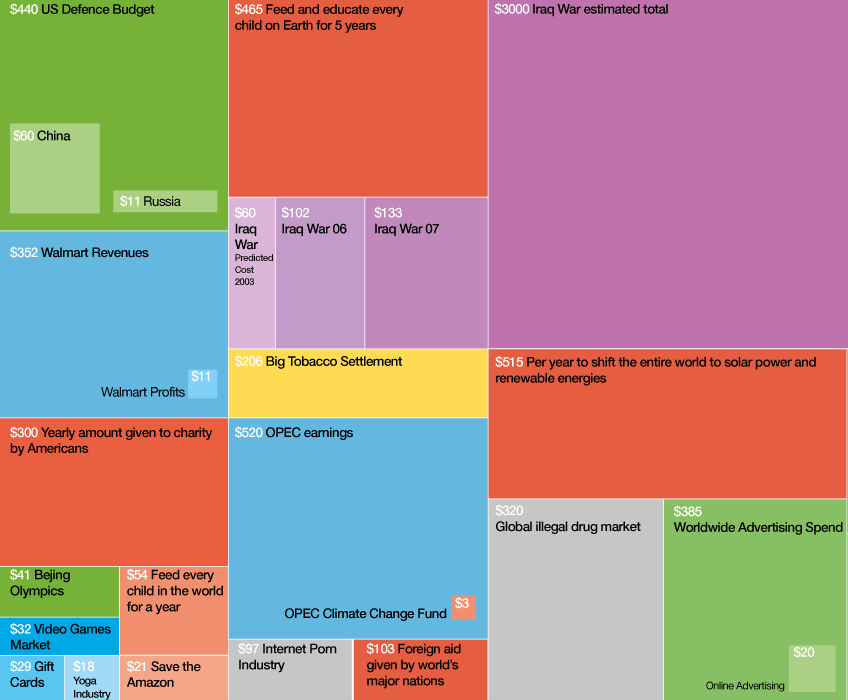 "No Diggity" is officially timeless, according to data scientists' analysis of Spotify data. The research, which examined number of playcounts on the music-streaming site, resulted in a list of the most "timeless" songs from different decades.
At 50 million playcounts, it's not difficult to guess the landslide musical victor of the 90s. But what about earlier eras or the most-played rap hits? Does Daft Punk's "Get Lucky" have the potential to become timeless? It's all here in this interactive data visualization.
Who knew that Darwin laid in bed for two hours at night solving problems? Or that Kafka wrote only at night, Maya Angelou worked in nondescript hotel rooms, and Victor Hugo always followed morning writing sessions with ice baths on the roof? We do, thanks to this graphic documenting how 26 great minds structured their days.

This data visualization examines the value of sports teams based on three factors: number of championship wins, longevity, and monetary worth. According to the data, the most valuable team is Real Madrid. The least valuable? Oakland Raiders. Let the feuding begin.
Based on intelligence, longevity, ailments, and other factors, McCandless produced data scores for different dog breeds and plotted the scores against the popularity of the breeds. The resulting graph reveals overlooked treasures (the Welsh springer spaniel!) and the inexplicably overrated (the bulldog!). How did your pooch fare?
The Y2K scare was nothing compared to global panic over swine flu and Ebola outbreaks, as shown in McCandless's timeline of the world's biggest fears and how the media amplifies them.
When you dig into some of this data, things get really interesting. For example, fear of violent video games peaks every year in November and April. Why? McCandless shared his conclusion: Christmas video game releases create an upsurge in concern about the content. And in April 1999, the Columbine shooting happened, and some believe this was influenced by violent video games. Every year since, the media has reminded the public of this event in April.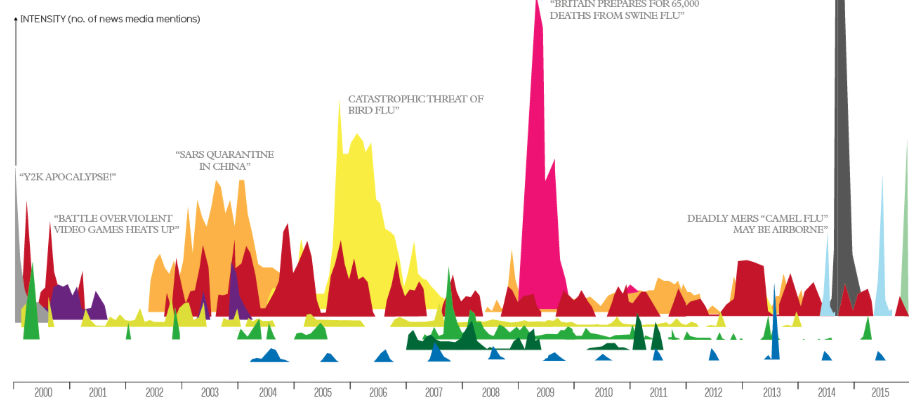 You're sitting in a movie theater and see "based on a true story" appear on the screen. At the data level, what does that mean? Here are ten of Hollywood's latest and greatest "true" stories, broken down scene-by-scene and analyzed for accuracy. Based on final percentages, The Big Short stayed closest to the truth and The Imitation Game took the most liberties with its source material.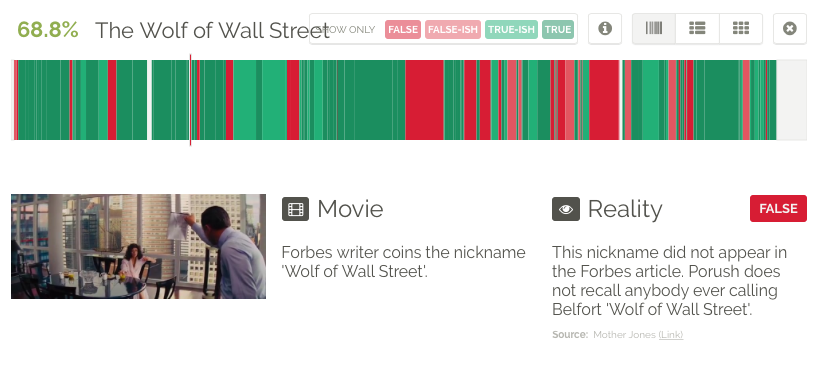 McCandless pulled data from reviews, awards, and public surveys to create this consensus cloud of non-fiction books everyone agrees are worth reading. (Capote for the win!)
He also did a version featuring American fiction novels.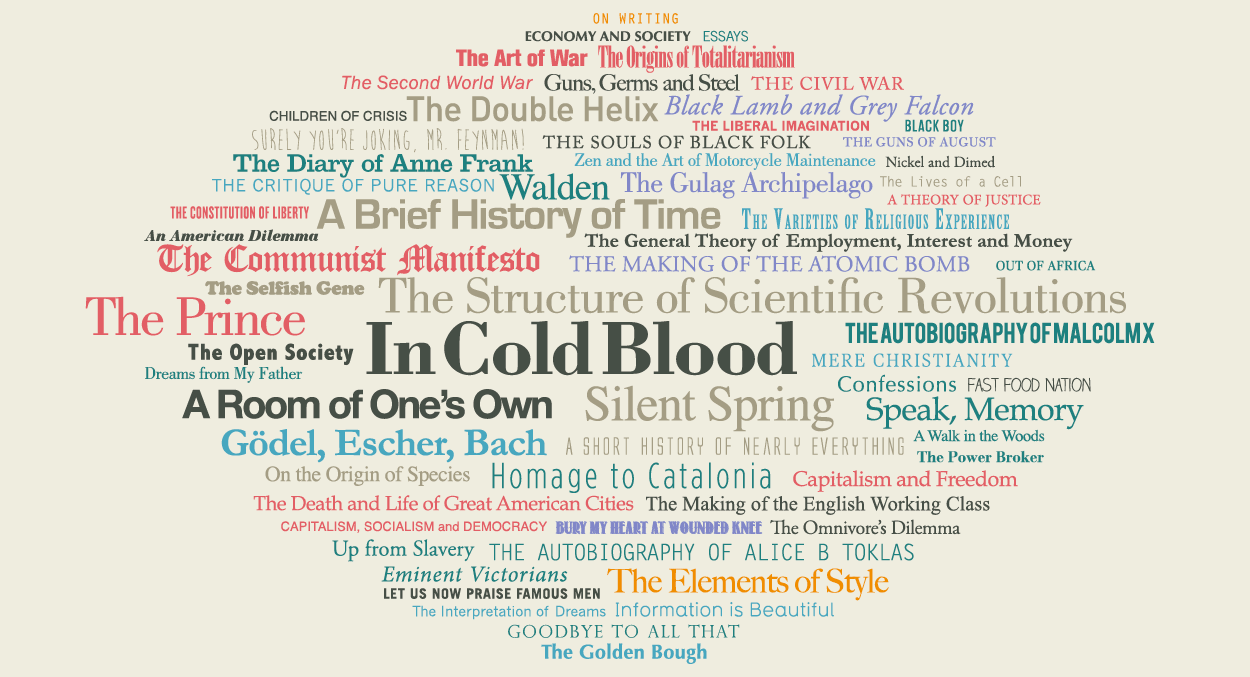 If you can't immediately relate to this problem, you've clearly never danced at a wedding. Or you, like this data analyst, pinpointed the exact rate at which you should descend during the 17 repetitions of "a little bit softer now" of the song "Shout."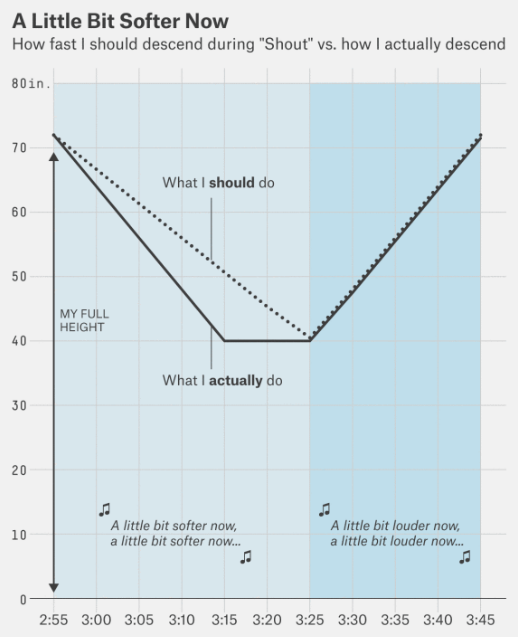 The author's rule of thumb? Take your height in feet and divide by three. That's how many inches you should descend on every repetition. And yes, this may not change how you see the world—but it does change how the world sees you. You will thank us next time you go dancing and don't pull a John Belushi.
---
Interested in a data science career? Visit the UW Master of Science in Data Science homepage, download the program guide to the right, or speak with an enrollment adviser at 608-262-2011 or learn@uwex.wisconsin.edu to find out whether this online master's program is right for you.
Read More Data Science Stories
[Webinar] View Professor Lyna Matesi's Interview with Data Science Guru Zach Gemignani
New Video Showcases UW Data Science Online Learning Experience