What kinds of salaries do data science professionals make? What software tools and programming languages do they use? In what parts of the country (and world) do they live and work?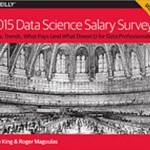 Find out in the 2015 Data Science Salary Survey from O'Reilly Media.
From November 2014 to July 2015, O'Reilly surveyed more than 600 data science professionals from 47 countries and 38 states across multiple industries.
Here is a sneak peek at what they found: