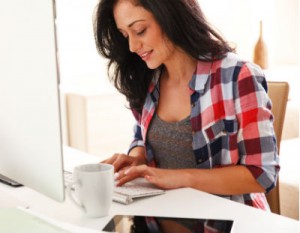 Learning and completing your online Master of Science in Data Science coursework requires sufficient technology and Internet access. While the online learning management system is accessible from nearly any device, from desktop to smartphone, a desktop or laptop computer is necessary to open and run applications and access the program's Virtual Lab.
Online Virtual Lab saves you time and money
As a student in our program, you will use and gain experience with a wide range of software. But you won't need a brawny computer and you'll never set foot in a computer lab. Our online, cloud-based Virtual Lab brings the computer lab to you!
Remotely access a virtual desktop with full access to software tools and programming languages such as R, Python, SQL Server, Tableau, and others.
Just download a simple client—avoid the cost and hassle of purchasing and installing applications on your own computer
Fast and easy; supports dual-monitor use
If you have a slow Internet connection, you may want to look for high-speed access from an alternate source, such as satellite or wireless offered by a mobile provider.
Virtual Lab system requirements
Windows
You can install the client on PCs and laptops that meet the following system requirements:
Windows 7, 8, or 8.1
Standard x86 (32-bit) or x86 (64-bit) compatible desktop or laptop computer
At least 1GB of RAM
The Windows 10 operating system can run the client; however, it is not officially supported at this time.
Macintosh
You can install the client for Mac OS X on all 64-bit Intel-based models that use the Mac OS X 10.6.8 or later operating systems. Other versions of the client support additional operating systems. The Mac on which you install the client must meet the following system requirements:
64-bit Intel-based model
At least 2GB of RAM
Find out more
Visit our Tech Support Portal for more information about minimum system requirements, supported operating systems, supported browsers, system-check for plug-ins, and computer and Internet security information.
Need technical support? Find it here.